4b natural hair suffers from "forgotten middle child" syndrome. It's distinctly different from its 4a and 4c counterparts yet is quite often looked over.
To be clear, 4b hair is distinctly different from 4a and 4c hair. In fact, it's unique Z-shaped curl pattern makes it quite distinguishable from its Type 4 counterparts, and requires specific techniques to moisturize, maintain and grow (if that's your end goal).
Ready to get into the lowdown on 4b natural hair and how to maintain it? Let's go!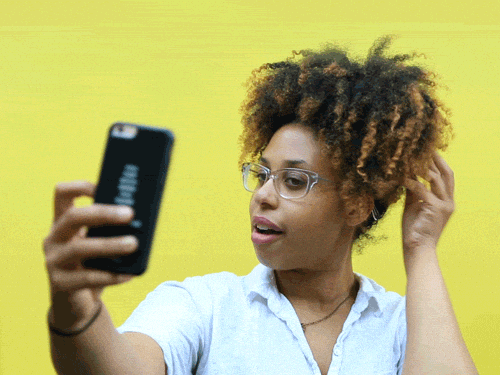 What is 4b Natural Hair?
Before getting into the specifics of how to take care of 4b hair, we need to first define what the 4b natural hair type is, and how it differs from 4a and 4c natural hair.
4b Natural Hair Type
Here are the general characteristics of this curl type:
♥ 4b hair has a Z-shaped pattern rather than an S-shaped curl pattern that other curl patterns;
♥ The curls contain sharp, angled bends rather than ringlets;
♥ The curls are about as wide as a ballpoint pen
If you're looking for some 4b natural hair inspo, Willow Smith is a great example. Her beautiful coils are angular rather than rounded.
4b Natural Hair Texture
There are two known hair textures for the 4b hair type (i.e. the way it feels).
Generally speaking, it can be fine, wiry textured hair or it can feel more coarse.
If you have 4b strands, you most likely experience shrinkage, meaning your curls shrink up tightly once dried.
This can make your hair look much shorter than it is, which can be annoying for many naturals who want to show off their length.
FYI – shrinkage is a sign of a healthy moisture-protein balance, but you may want to stretch your hair out every so often. We'll talk more about how to combat this shortly!
Now let's get into the specifics of taking care of 4b hair.
How To Take Care of 4b Hair
4b Wash Day Routine
All great natural hair routines, especially for 4b strands, starts with wash day.
Your wash day routine is instrumental for hydrated, juicy coils. Moisture starts with wash day, and the angular coils of this curl type requires deep hydration to reduce the chance of breakage.
In general, your 4b wash day routine should look something like this:
A pre-poo
Shampoo (cleansing conditioner one week, shampoo the next week)
Conditioner (and use this time to detangle), rinse out with cold water
Deep condition/protein treatment
Style using a hydrating leave-in conditioner, a cream and an oil/gel
Shampoo
It's recommended that all naturals wash their hair with shampoo. Just like other hair types, natural hair builds up dirt and product buildup. Dirty hair needs to be cleansed routinely to ensure a healthy scalp.
However, for Type 4b naturals, shampooing weekly may be too drying and can cause unnecessary breakage.
To mitigate this, shampoo your 4b coils every 2 weeks, with a cleansing conditioner on alternate weeks. This will help your hair retain as much moisture as possible, while the surfactants (detergents in the shampoo) will still ensure your hair is nice and clean.
TGIN Moisture Rich Sulfate-Free Shampoo
Best suited for coilier textures, this shampoo will ensure no product is left behind. Best of all, most of the hydrating ingredients (such as amla oil extract and sugar cane), are right up front in the ingredient list, meaning your hair won't feel stripped after using it.
This conditioning creme is formulated with fortifying and strengthening ingredients such as coconut oil, saw palmetto and castor oil. The rich creamy formula will also reduce friction between your strands, making detangling a breeze. A great co-washing option for 4b coils in between shampoo days. A must try!
Conditioner
Conditioners are not essential in a natural hair routine (some naturals prefer to deep condition immediately after shampooing).
But for 4b coils, the emollients from the conditioner will soften the hair and help with reducing friction between the strands. Its recommended to always condition your hair immediately after shampooing and prior to deep conditioning.
Deep Condition
Deep conditioning this hair type is a non-negotiable. You should always deep condition after you've washed your hair, especially if you've used a shampoo.
The best deep conditioners for 4b strands are those with moisturizing and friction-reducing ingredients. Look for deep conditioners with ingredients such as honey, aloe vera, butters, and fatty alcohols.
TGIN Honey Miracle Hair Mask
One of the most superior ingredient list of any deep conditioner on the market. Honey is the SECOND ingredient, meaning that you'll truly feel the softening effects from the honey after rinsing. Jojoba oil and aloe vera, the third and fourth ingredients respectively, are incredibly beneficial for moisturizing natural hair. A must have for coilier textures!
Camille Rose Naturals Algae Renew Deep Conditioner
A cult favourite deep conditioner, This deep conditioner contains essential plant-based oils and butters loved by all naturals: manuka honey, mango butter and aloe vera, and also includes innovative ingredients such as hemp seed oil and blue-green algae. And it smells like mint chocolate chip!
Mielle Rosemary Mint Strengthening Hair Masque
This nutrient-rich formula includes fortifying ingredients such as rosemary, biotin and henna, as well as enriching oils such as babassu, castor and jojoba oil. A great deep conditioner to keep fine hair strands and/or high porosity hair nice and strong.
If you have low porosity 4b coils, its imperative you use heat when deep conditioning. Low porosity strands are tightly shut and thus products tend to sit atop the hair, rendering them useless.
Heat helps lift the cuticles and create space for product absorption. The best form of heat for this hair type is steam, which is vaporized water particles that will moisturize your coils along with the deep conditioner.
Even high porosity 4b naturals can benefit from using heat. Studies have shown that, regardless of porosity type, using heat on natural hair can increase product adsorption (which means "to stick").
However, many of us do not own steamers as they can be expensive and bulky. An alternative for steamers is hot head thermal caps, which harness the heat capacity of flaxseeds to bring heat to your hair.
They are a fraction of the price of steamers and allow you to be mobile while you deep condition (instead of sitting under a steamer).
This is a must have tool for natural hair, especially for low porosity naturals. Deep conditioning as a low porosity natural is fruitless if you're not lifting your cuticles to let the product in. And the heat from this product will do just that! A much more effective deep conditioning strategy than the baggy method, and best of all: it's much more affordable than a steamer.
Moisturize and Seal
The last step in your 4b wash day routine is to moisturize your hair and lock it in until next wash day (ideally).
To effectively moisturize 4b strands use a water-based leave-in conditioner that focuses on hydration and is formulated with moisture in mind. Look for a leave-in that has water as the first ingredient, followed up with ingredients such as aloe vera, honey, panthenol and ceteryl alcohol.
Use an oil-based product that create a barrier to protect the leave-in from evaporating. These products are usually buttery in texture, like a cream, and will also keep your angular 4b strands from tangling on each other.
You don't need to seal with an oil since the cream is oil-based, but you may want to use a gel as the last step to define your coils. Gels are great for wash and go's and can also lock in a style like a twist-out or braid-out. Use gels that include plant-based ingredients such as flaxseeds, ginger, aloe vera and okra.
Other tips for maintaining 4b natural hair include:
Wash in sections – the smaller the sections, the less breakage and shedding.
Never detangle on dry hair. Only detangle when your hair is damp and with product.
Finger detangle – your fingers are more geFntle on your hair than a comb. Get the larger tangles out of your hair first, then use your wide-tooth comb.
Protective style often, making sure to take down the style every 6-8 weeks to shampoo and re-moisturize. 
Opt for low maintenance styles when leaving your hair down such as twist outs, bantu knots and braid outs.
If doing a wash and go, make sure to band your hair nightly to stretch the hair, avoiding deep tangles and single-strand knots. 
Avoid hair serums and glosses (which contain silicones and mineral oil) and stick with plant-based oils.
Final Thoughts on 4b Natural Hair Care
4b coils is NOT the same as 4a or 4c natural hair, and it's important to understand this fact. 
The zigzag pattern of this hair type makes it susceptible to tangles, breakage and single-strand knots, so be sure to follow the above 4b coils care routine to make sure it stays healthy.